Well, we're back. Actually, we've been back since Sunday afternoon, but I hadn't gotten around to the blog until now. The event went pretty much as expected. Not too many surprises. Long days, lots of walking, tired feet, good food, some fun.
Thursday was registration; 7am to 8pm. Christy's parents got stuck in a traffic nightmare on southbound I-69 and were running late, but arrived eventually and went on to the concert. Christy and Hannah and I went back to our hotel and found that we had the swimming pool to ourselves. We had the pool to ourselves last year too. We all had a good time relaxing a little bit there.
Friday was registration again from 7:30pm to 2pm. Praise Gathering Apparel sales from 2pm to after the concert (~11pm). Here and there, I managed to get to a couple of seminars and concerts just long enough to snap a couple of pictures.
Saturday, we finished up registration from 7:30 to 2pm again and then gathered up all the registration materials that we have to take back to work and loaded them in a van. After that, I finally had some free time. Christy and Hannah were waking from their nap when I got back to the hotel, so we headed for Circle Centre Mall. Much of downtown Indianapolis is connected by covered skywalks creating a network of many of the downtown hotels, the Convention Center/RCA Dome and the mall. We got dinner at
Johnny Rockets
and then did some shopping. Dessert at
Maggie Moo's
.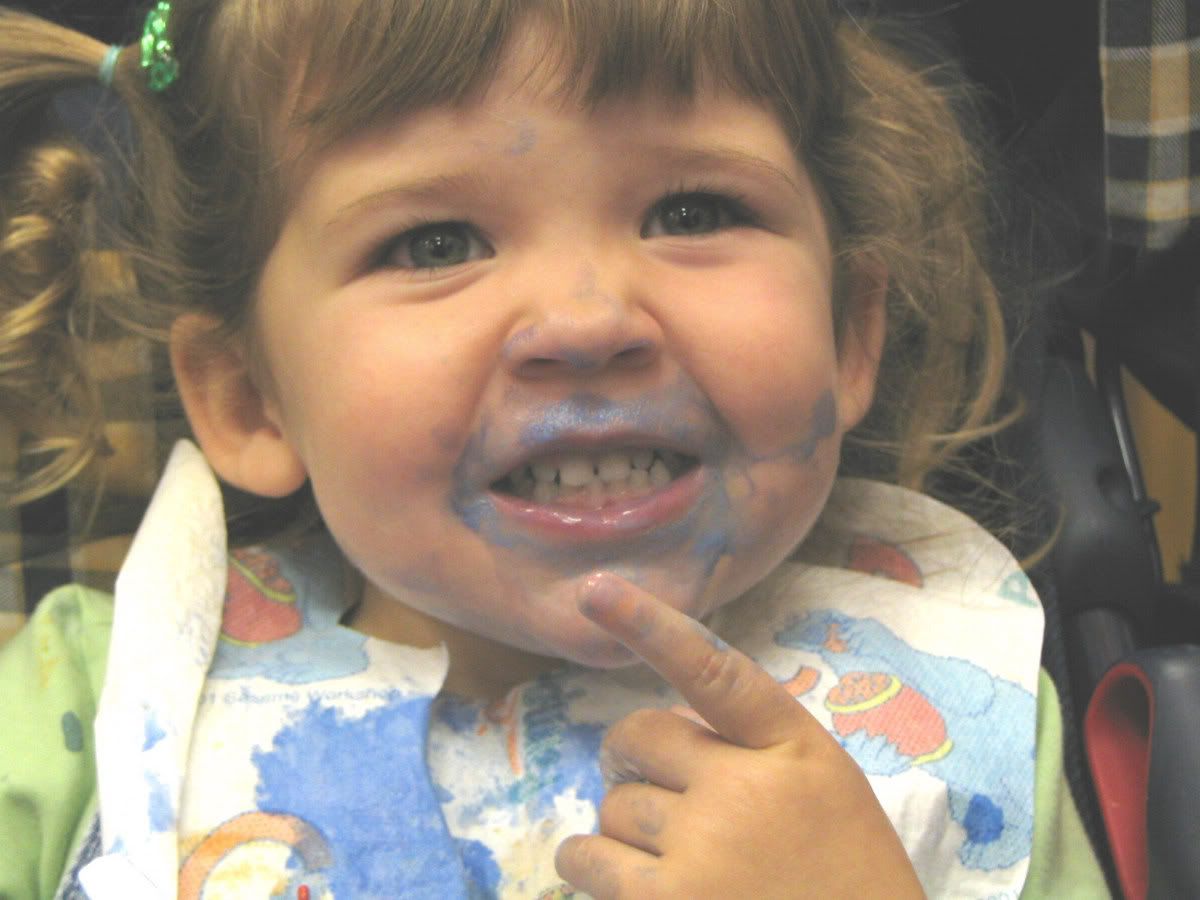 Needless to say, we stayed pretty busy. We never made it to
The Polar Express
, but that's OK. Perhaps some other time.
At Praise Gathering again this year was Mike Lewis (aka
Jesus Painter
). This guy creates artwork before your very eyes using only paint and his hands. It's really amazing to see him transform a blank canvas into a beautiful painting in less than 10 minutes.I noticed that his background music uses quite a bit of Rich Mullins. Rich has long been one of my favorite songwriters. One time, when Mike was cleaning up, I went over and asked, "Why Rich Mullins?" Apparently, Mike grew up in Cincinnati and became familiar with Rich's music since Rich attended Cincinnati Bible College (now
Cincinnati Christian University
). I helped him fold up one of his tarps and he was kind enough to give me three prints of the three paintings I saw him do live, '
Christ Eyes
' '
Proof to Thomas
' and '
Intimate Portrait
' (left to right in picture below)
(click on these pictures for bigger versions)