Well, it appears that the fourth time was the charm for us this time. Autumn Party #4 was last night at
Rainbow Christian Camp
in Converse, Indiana. The weather was perfect for this type of event; not too warm, not too cold.
Dinner was provided and they had lots of activities for the young and old. They had a bounce-house for young children (
Dora the Explorer
, no less). Hannah tried this
briefly
. The older kids were being a little too rambunctious for her. We did "Trunk-or-Treat" where people decorate their trunks or the back of their cars and then pass out candy to the kids from there. Christy and Hannah (whose
picture
can be seen in the previous post) walked around collecting candy while I stayed near our car and passed out the candy that we brought for other Trunk-or-Treaters. We also finally got to go on our hayride, except there was no hay. What's up with that??
I can see it now. . .
"Grandpa Jeremiah," (when I get older, I plan to insist that people call me Jeremiah, even though my given name is Jeremy. Somehow Jeremiah just sounds, older, ya know?) "why do they call hayrides, hayrides?"
"Well Sonny," I reply, "Back in my day they actually used to put hay in a beat up old wagon and everybody climbed in and went for a ride in the hay. That's why they're called hayrides."
"So you actually had to touch the hay??"
"That's right! Sometimes we'd take a handful and throw it at each other or stuff it down somebody's shirt, ha, ha!"
"But, Grandpa, where were the seatbelts?"
"Seatbelts? No, son, you don't understand. There were no seatbelts."
"Really?"
"Nope, we just had to hang on. That's the way it was, and we liked it!"
Anyway, they have this 45' tower there with lots of various activities; Jousting, a 300' Zip-line, a vertical obstical course they call 'The Matrix,' and a climbing wall. Well that was it. I've always wanted to try a climbing wall. So I got my safety harness, helmet, signed my waiver and went up the wall . . . about 10 feet up the wall, that is. Man, it was a lot harder than I expected it to be. I knew I wouldn't be able to pull myself up with my arms, but I thought if I could get my legs under me, then I'd be OK. Well, by the time I did get my legs under me, my fingers and hands were
done
! I guess I should have tried the beginner wall instead of starting with the intermediate side. After I got down, a little girl came up to me and said, "It's OK; you tried your best." Well, there went any hope that
maybe nobody was watching
. The next person on the wall was probably about 4 years old. He was really too small to be up there, but he wanted to try. Well, he hung on for a little bit, but finally broke down in tears and his dad went up and got him down. So Christy turns to me and says, "At least you didn't cry!" We all had a good laugh about it.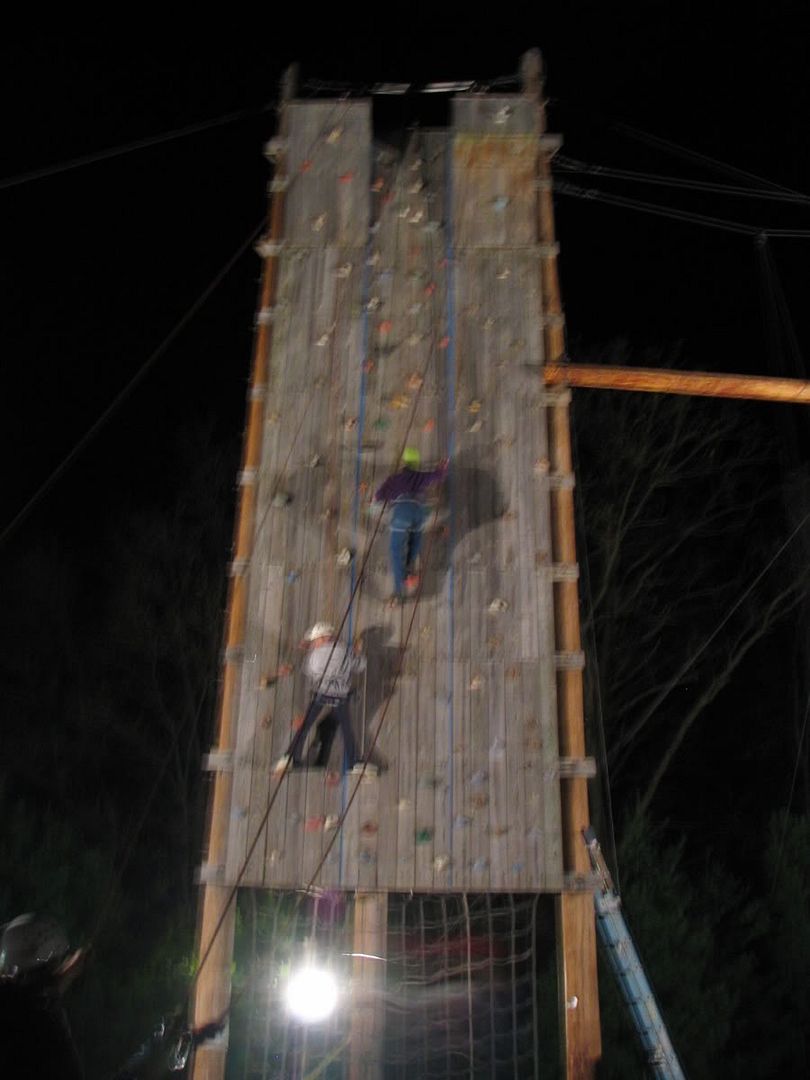 Films Recently Watched:
Charade
(1963) dir. by Stanley Donen
Cary Grant and Audry Hepburn are both spot-on in this mystery/suspense/comedy/romance (yeah, a little something for everybody). Also starring Walter Matthau and James Coburn, Christy and I both enjoyed this one.
And for Halloween:
Frankenstein
(1931) dir. by James Whale
(edit 11/02/2004: added climbing wall picture)