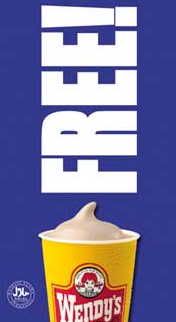 Free Frosty Weekend -- May 13-15
Wendy's is giving away free Junior Frostys this weekend as a "thank you" to customers who stuck with them during their recent
bad publicity
.
"Our customers stood by us while we defended our good name and protected our employees' livelihoods, so now we're showing our appreciation with free Frostys," Tom Mueller, Wendy's chief executive, said in a press release. "We're moving on."
For you skeptics out there, I was cautious about this too, as it came to me in the form of a forwarded e-mail. I was like, "Yeah, and Microsoft will send me a check if I forward this e-mail to ten of my closest friends and some dude in Nigeria wants to give me money for helping him move his fortune into an American bank."
This appears to be legit, though. The CNN link above confirms the e-mail and it's even on
Wendy's Homepage
.
The only "catch" I can find is that
Junior
Frosty's are about as big as a Dixie cup, but hey, if you can tolerate Wendy's ridiculously deep spoons and potentially long lines, free Frostys is free Frostys!